About Bill LeGall and Millersound:
During the 1930s, Bill's Grandfather founded Otto Miller Radio & Hobby Shop in Brooklyn, New York. He would sell and repair speakers, in addition to selling and servicing tube equipment. As Bill was growing up, his interest in audio was a natural, though loudspeaker technology intrigued him most. Daily visits to his grandfather's shop gave him a great understanding of how speakers work. This valuable experience, combined with many years of running Millersound, has given him insight into practically every type of speaker, from the oldest to the current state-of-the-art.

To Bill LeGall (owner of Millersound), having merely satisfied customers is a boring concept. As one client put it, in a letter to Millersound, "Customer satisfaction is actually an insult to you; Customer Delight is a more accurate term." Ask anyone in the know, and the most common response is: "Millersound will make your speakers like new again, or even better." They will surely mention the lightening-fast turnaround, and the fact that everyone they've already recommended have been delighted almost beyond belief. At Millersound, we truly appreciate our loyal clientele, and respect the fact that they put their faith in us, anytime the need arises.
Praise from 6moons.com...
The revered audio website 6moons.com stated the following after visiting Millersound as part of the 2004 Forbidden Fruit Tour: "Showing us multiple compendiums of collected customer feedback, it became clear that Bill LeGall is considered the equivalent of a national treasure by those who do business with him. Count the two of us (Srajan & Ivette) amongst his newest admirers."
A few of the brands we service..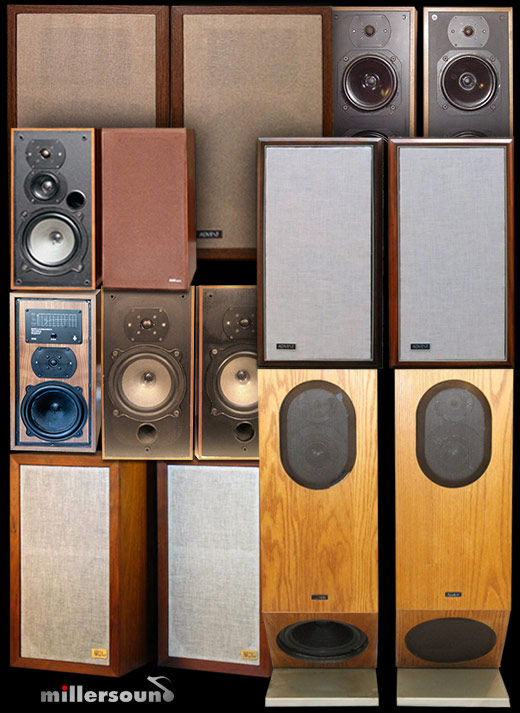 Find a complete list HERE
To arrange for speaker repair(s), please head to our
contact page
.